Match Play/Comps
FRIDAY MATCH PLAY – SINGLES
Several years ago we found that something was missing for players not just in the Macarthur, but all around Sydney.
Many tennis centres offer lessons and squads but the match play element, especially for the elite tournament level player, was missing.
We decided to fill that void and as a result we have players from places as far flung as Batemans Bay, Kiama, Castle Hill, Maroubra and the Blue mountains regularly coming on a Friday for 4 high quality sets of singles. AMT winners and ITF Futures level players also regularly attend.
Costing $20 per week, you only pay when you play and there is no commitment to attend every week. Most players will pay the $100 term fee as it is the most cost effective.
Play starts at 5pm although coming at 5.30 or 6pm is possible and not a problem.
We cater to all levels of player on Friday afternoon and also have a green ball level for the beginner comp level player.
Friday match play is run at Wests tennis club, Leumeah.
Please contact Jared 0404 457 088 or Ian 0411 330 107 for more information.
* NEW PAYMENT OPTION - $100 PER TERM (no refunds)
* CASH PRIZES OF $50 PER WEEK!
* FIRST WEEK FREE!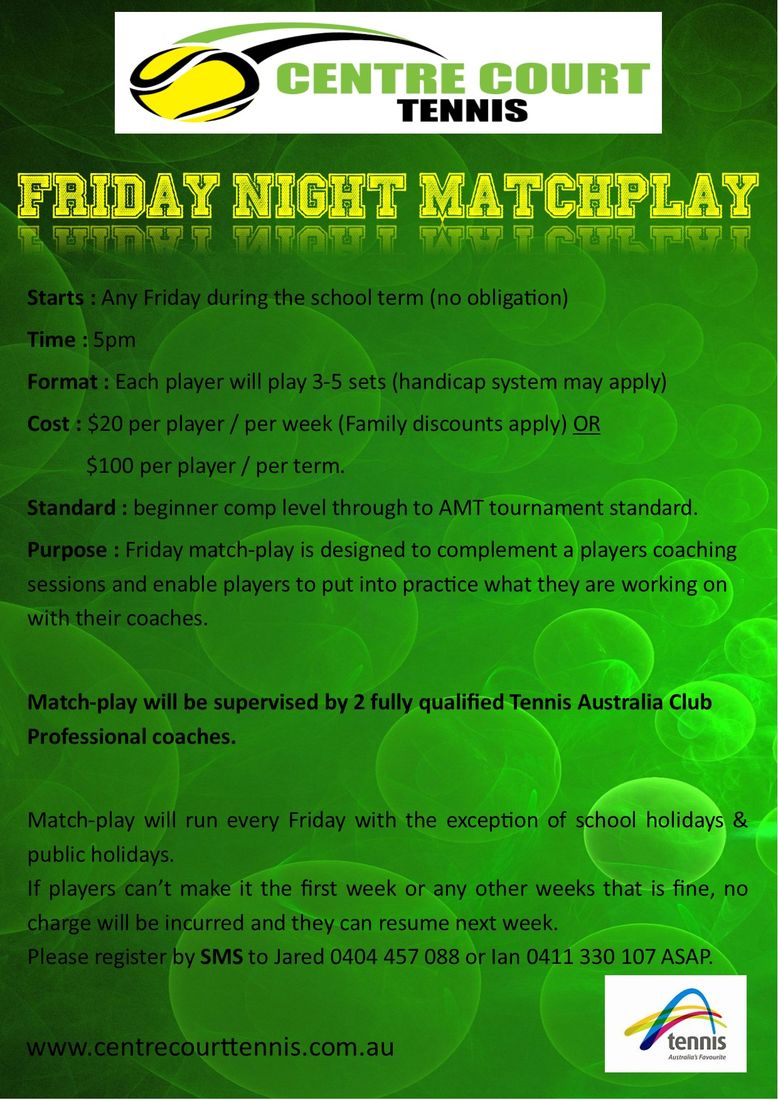 WEDNESDAY SINGLES - ALL NEW
Following on from the continued success of Friday night, it was decided more match play was needed.
Starting at 7pm and finishing before 10pm, Wednesday singles offers good singles competition for the keen and time poor player.
With 25% of the purse going back to the winner/s, players get a chance for some good competition and the bonus of some prize money for the undefeated player.
Guaranteed 3 sets.
Cost only $10 with your first week free!
SATURDAY DOUBLES MATCH PLAY
Saturday doubles is a new concept along the same lines as Friday match play.
A joint venture between Centre Court Tennis and Tennis Macarthur, players play against others of their own standard and play as many sets as they like for FREE!
With people being busier than ever these days, having a no commitment competitive hit running on a Saturday could be the way of the future.
Saturday doubles is run at Wests tennis club, Leumeah.
Please contact Jared for more information 0404 457 088
* EVERY WEEK FREE!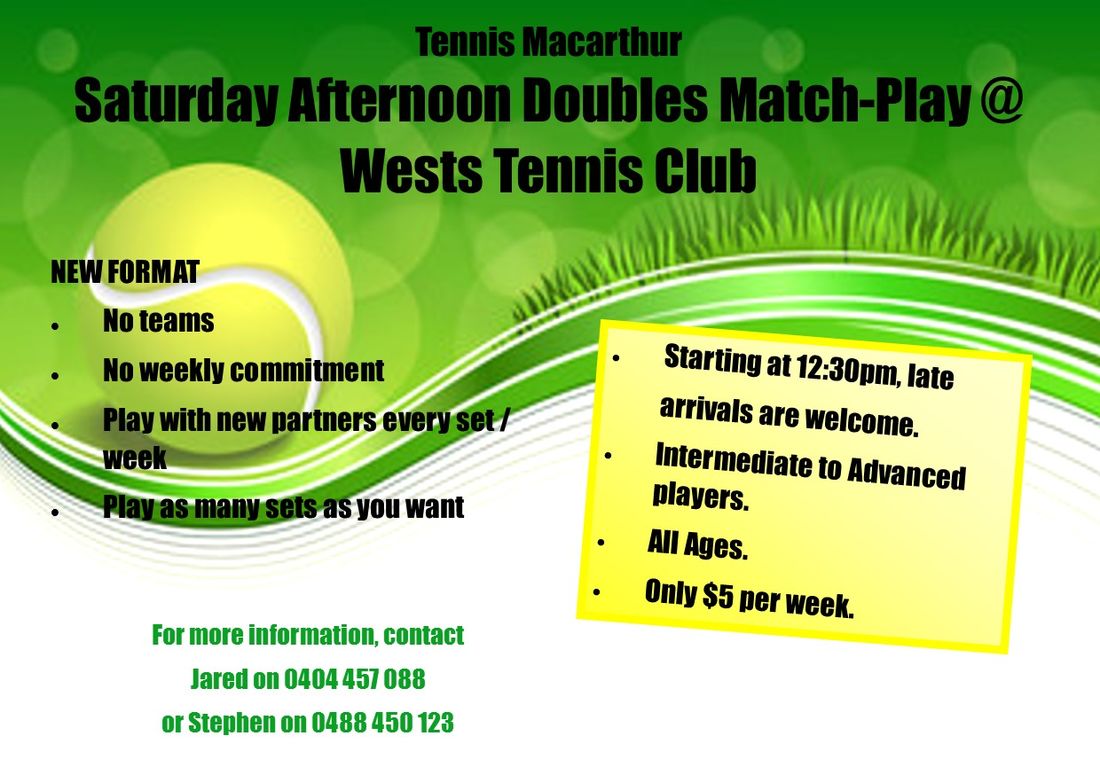 THURSDAY NIGHT FAST 4
Fast 4 is a Tennis Australia approved concept to help the time poor tennis player.
Open to both juniors and adults, it has proven to be a popular concept as players of all ages attend regularly on Thursday night from 7pm.
Cost is only $20 per night OR $100 per term.
Thursday night Fast 4 is run at Coleman Park tennis centre, Georges Hall.